Renting Done Right
The rental market is nearing a crisis. Unsustainable governmental pressures are resulting in landlords leaving the sector, less housing supply and rents rising for tenants. That's why we need to act - and fast.
We want a fairer rental sector. One that is beneficial for estate agents, landlords and tenants. We want to ensure the rental sector remains an attractive place to invest without relying on skyrocketing rents. That's why we're rallying lettings professionals together to highlight the issues the rental sector is facing.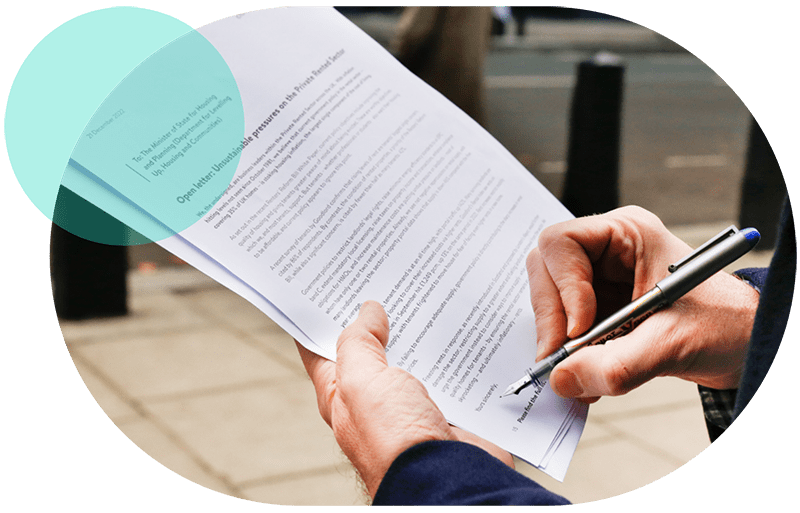 500+
recommendations to government
collected

What's happening in the rental sector?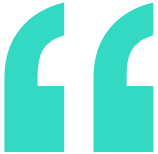 "For decades, we have simply not built enough homes"

Agents and landlords are concerned by the impact of legislation
The bill, announced in 2022 and due to be published this year, showed 80% of agents and landlords are concerned by the impact of the Renters' Reform Bill.



Reactions from the industry
With the private rental sector making up more than a third of properties in the UK, current government policy is pushing landlords out of the sector, resulting in rent increases for millions of tenants.
In December 2022 we sent an open letter to the government, which has now been signed by 1,100 lettings professionals. We outline that by failing to encourage adequate supply, government policy is directly contributing to sharp rent increases.
We have also been rallying agents, tenants and landlords together through focus groups and a targeted webinar.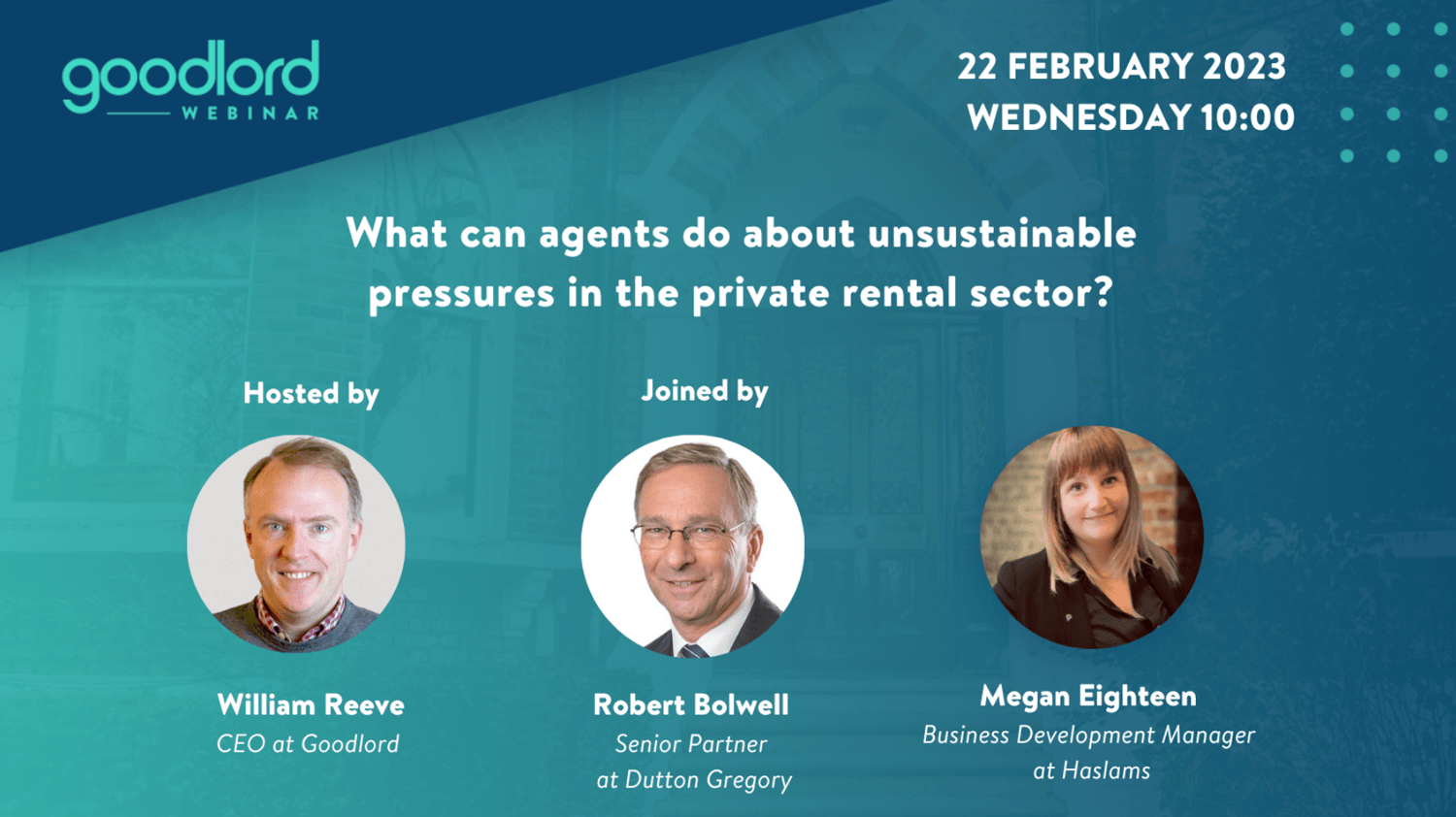 Open letter: Unsustainable pressures on the Private Rented Sector
To: The Minister of for Housing and Planning (Department for Levelling Up, Housing and Communities)
We, the undersigned, are business leaders within the Private Rented Sector across the UK. With inflation hitting levels not seen since October 1981, we believe that current government policy in the rental sector — covering 35% of UK homes — is stoking housing inflation, the largest single component of the cost of living.
As set out in the recent Renters' Reform Bill White Paper, current policy objectives include improving the quality of housing and giving tenants greater peace of mind about being evicted. These are worthy objectives which we, and most tenants, support. But tenants - whether professionals or students - also want their housing to be affordable, and current policy appears to ignore this point.
A recent survey of tenants by Goodlord confirms that rising levels of rent are tenants' biggest single concern, cited by 86% of respondents. By contrast, the condition of rented properties, a priority of the Renters' Reform Bill, while also a significant concern, is cited by fewer than half as many tenants: 42%.
Government policies to restrict landlords' legal rights, raise minimum energy efficiency standards to an EPC band C, extend mandatory local licensing, raise taxes on property income and transactions, enhance compliance obligations for HMOs, and increase maintenance costs are putting undue pressure on landlords — most of whom have only one or two rental properties. Already, we see net negative repercussions on rental supply, with many landlords leaving the sector; property portal data shows that supply is down 46% compared with the five year average.
At the same time, tenant demand is at an all time high, with portal traffic up 142%. Many surviving landlords are understandably looking to cover their increased costs via higher rents. Goodlord's Rental Index saw rents on new tenancies in September hit £1,249 pcm, up 13% on the same period in 2021. Rent increases restrict mobility and supply, with tenants frightened to move house for fear of facing even higher rents in a new home.
By failing to encourage adequate supply, government policy is directly contributing to the sharp increases in rental prices.
Freezing rents in response, as recently introduced in Scotland and proposed by London's Mayor, would further damage the sector, restricting supply to a greater extent and fuelling landlords' withdrawal from the sector. We urge the government instead to consider ways to improve supply - while continuing its aspirations to ensure quality homes for tenants - by ensuring the rental sector remains an attractive place to invest without relying on skyrocketing — and ultimately inflationary — rents.
Yours sincerely,

Listen to the audio version
Richard À Brassard
Director - Courtenay

Stirling Ackroyd
Executive Renewals Director - Stirling Ackroyd

Shane Active
Director - Rolfe East

John Adamson
Chairman - Garrington

Thomas Adamson
Landlord

John Adlam
Director - Hunters

Bemi Agbaje
Manager - TJ Spring Properties

Bemi Agbaje
Manager - TJ Spring Properties

John Ahmed
MD - Ahmediagroup

Charlie Aldridge
Head of Property Management - Oakwood Estates

Brett Alegrewood
Managing Director - Ezytrac Property

Rino Aleo
Landlord

Faye Allan
Property Manager - Now Rooms

Sarah Allen
Landlord
Max Allen-Coveney
Sales and Lettings Negotiator - Porter Property Services

Carrie Alliston
Lettings Director - Hunters Property Group Ltd

Dominic Amey
Managing Director London Markets - Avison Young

Andreas Anastasiou
Director - Iliad homes

Leigh Andrews
Director - Cackling Witch Properties Ltd

Christopher Andrews
Managing Director - C J Associates

Rob Andrews
Director - Northampton Living Ltd

Paul Angus
Managing Director - Cooperlets Limited

Janine Angus
Managing Director - Cooperlets Limited

Gilbert Appleton
Landlord - Private Landlord

Maria Armstrong
Landlord

Gemma Armstrong
Director - Northwood

Marcus Arundell
HomeLets - MD

Russell Ashford
Director - Simply Rent

Trevor Ashman
Landlord - Landlord
Dawn Asquith

Kane Astin
Managing Director - St Andrews Bureau Ltd

Deyvid Atanasov
Negotiator - Cavender

Dorothy Atkins
Director - Personal Aspirations

Richard Attebery
Managing Director - AMS

Gurdip Atwal
Landlord - Successive Property Limited

Brenda Austin
Manager - Brookwood Lettings & Management

Katherine Backhouse
Director - Phoenix Lettings and Property Management Ltd

Hugh Baily
Landlord - Landlord

Neil Bainbridge
Director - Ashcox &Stone

Ina Bakalova
Director - Cocoon Property

Robert Baker
Landlord

Tessa Baker
Landlord

Carly Baker
Managing Director - Black & White Property Services Ltd
Stephen Baker
Owner - Property Ladder

Tom Baker

Matt Baldock
Director - Charles David Casson

Steve Baldwin
Director - Firlands residential ltd

Keith Baldwyn
Private Landlord

Andrew Ball
Property Consultant - Sales Progressor - Lv Property

Steve Ballam
Director - Martin & Co Poole

Chrissie Ballantyne
Director - Lemon Tree London

Daniel Bapty
Director - Dybles

Michael Barany
Owner - BPI

Michelle Barber
Director - The Gray House Letting & Property Management

Kane Barber-Moore
Head of Lettings - Oakwood Estates

Peter Barbor
Chairman - Brooklands Property Holdings td

Sara Barka
Director - Cobblestone Estates

Adrian Barnes
Wrill Barnes Yallowlwy
Property Manager - Lhh Residential

Claire Baron
Operations Director - St. Andrews Bureau

Alberto Barraclough
Student Property Owner - Barraclough Student Houses

Yolanda Barraclough
Student Property Owner And Manager - Barraclough Student Houses

Andrew Barriskell
Managing Director - FTOP Properties L:td

Fraser Barron
Director - Tristrams Property Services Ltd

Murray Barter
Director - Quoin Group Limited

Philip Bartle
Director - Bartles Ltd.

Asif Bashir
Director - Bashir Luxury Homes Ltd

Miles Batty
Lettings Manager - Tennants

Ozge Bayar
Director - Oxo Management

Anthony Bean
Managing Director - Tuffin & Wren

Mark Beaumont
Director - Mark Beaumont.com

Daniel Bell
Director - Bell Real Estate Ltd.

Nick Bell
Director - Rent Rent Rent Lettings Ltd
William Bell-Knight
Senior Partner - Madison Oakley

Oladapo Bendele Oyewobi
Director - OJB Ventures Criminal Justice Consultants Ltd

Mike Benner
Director - Benner Property Consultancy Ltd

Andrew Bennett
Director - Bennett Residential Management Ltd

Andrew Bennett
Director - Bennett Residential

Martin Berg
Director - Mb & Co

Julian Bessey
Director - Red Ensign Properties Ltd

Angelou Beswick
Managing Director - Ivy House Residential

David Bettis
Director - Bennett and Hall

Graham Bettis
Director - Bennett & Hall

William Beveridge
Owner - Ruby Property

Maryam Bham
Senior Branch Manager - Hunters Property Group

Justin Bhoday
Director - VJB Property Brokers Ltd

Vicky Bibiris
Managing Director - Location Location

James Biddle
Director - loc8me
Matt Billingham
Director - Billingham & Co

Sally Billington
Office Manager - P R Lettings & Management Ltd

Stephen Binks
Director - Binks (Sales & Lettings) Ltd

Julian Bishop
Director - Bishop Sullivan

Sion Bithell
Branch Manager - Northwood Wrexham Limited

Sarah Black
Managing Director - Intime Properties Limited

Hannah Blackburn
Partner - Exeter Property

Marion Blacker

Louise Blackman
Business Manager - Dart Property Services

Leigh Blair
Landlord

Thomas Blake
Chartered Surveyor - Jefferys

Mark Blanks
Senior Property Consultant - Falcon

John Blase
Principal - John Blase Property

David Bloch
Sole Director - D B Surveying Services Ltd

Christopher Bloice
Alex Bloxham
Head of Lettings - Bidwells

Nick Bluffield
Proprietor - Bluffield

Robert Bolwell
Senior Partner - Dutton Gregory Solicitors

Michael Bond
Director - Lutton Properties Ltd

Richard Bond
Head of Lettings - Greener Rentals

Charlie Bone
Assistant Manager - Cavenders Estate Agents

Diana Borovina
Landlord

Rick Bowers
Finance Director - MRC Estate & Letting Agents Ltd

Mark Bowles
Director - P&R Property

Clare Bowyer
Director - Bowyer Estates Limited

Gary Box
Landlord

David Boyden
Managing Director - Boydens

Mercedi Brentano
Landlord

Daniel Brewer
Associate Partner - Unique Property Company

Kathy Britton
Managing Director - Brittons Estate Agents Ltd
Leon Broady
Director - The Property Centre

Vincent Brock
Sales Valuer - Phillips Smith & Dunn

Kate Brocklesby
Director - Pinewood Properties Newmarket ltd

Peter Brown
Director - Martin & Co Croydon

Ian Browne
Director - Browne Estates

Keith Brudenell
Landlord

John Bryanton
Director - Haydn Jacks Limited

Paul Buck
Director Sales & Lettings - Boydens

Ivor Bull
Business Manager - Cardens Estate Agents

Spencer Bullard
Managing Director - Abode Town & Country Properties Ltd

Steve Bunch
Landlord

Mark Burgess
Managing Director - JDM Lettings

Alan Burke
Managing Director - Property Bureau

Tony Burke
Landlord

Gemma-Louise Burland
Referencing Account Manager - Goodlord
Lauren Burnett
Customer Adoption Team Lead - Goodlord

Valissa Burnett
Director - Regency Lettings & Property Management Ltd

Peter Burns

Isobel Burns
Property Manager - Parkinson Property

Christian Butler
Director - Hooper Homes Estate Agent

Shirley Butlin
Landlord

Emma Butlin
Landlord

Jason Butlin
Landlord

Albert Button
Landlord

Kristjan Byfield
Co-Founder - The Depository

Simon Cairnes
Director - Flamefish Media Ltd

Brian Callaghan
Managing Director - Letting Solutions Ltd

Graham Calvert
Managing Director - Calco Properties Limited

Paul Campbell
Director - Professional Inventories Ltd
William Campbell
Landlord

Jean Canham
Managing Director - Tarrants Property Services Ltd

Jon Carden
Director - Cardens Estate Agents

Fiona Carey
Lettings Manager - Campden Estates Limited

Jason Carlon
Director - Rochford Stokes

Dana Carpin
Company Manager - Hunters Estate Agents

Edelle Carr
Partner - Property Management - Red Carpet Estates

Alexandra Carroll
Referencing Supervisor - Goodlord

Vanessa Carter
Associate Partner - Butler Sherborn

Edward Carter
Director - Charles Carter Lettings Ltd

Perdita Carter-Rowe
Senior Account Manager - City Relay

Victoria Caruana
Landlord

Deborah Castle
General Manager - Herbert Lovell Associates Ltd

Tom Catchpole
Director - Tenancy360

Matt Cavender
Director - Cavender Estate Agent
Clifford Cavender
Director - Cavender Estate Agent

Sarah Cavender
Property Manager - Cavender Estate Agent

Robin Chalk
Head of the Tower Bridge Office - Anderson Rose

Duncan Challis
Partner - Quay Living

Mei Chan
Director - Seccurro Homes Limited

Linda Chandler
Director - Black & White Property Services

Charlotte Chaplin
Landlord

Andreas Charalambous
Director - Anthea Lettings

Adam Charlton
Managing Director - Homes Partnership Southern Ltd

Jonathan Charlton
Business Owner - C&C Lettings

Mohammad Chaudry
Landlord

Andrew Chell
Director - Andrew Chell Premier Student Homes

Cynthia Cheng
Director - Golden Property Investment Ltd
Tania Childs
Office Manager - The Property Bureau (SW) Ltd

Cornel Chin
Proprietor - propertyconnector.co.uk

Roy Chisnall
Director - Treehouse Properties

Philip Christie
Managing Director - Christie Residential

Chris Christo
Director - Christo&Co

Chris Christodoulou
Director - Ashmore Residential

Andreas Christofides
Landlord

Nicholas Christoforou
Owner - NC Real Estate Ltd

Melissa Chuck
Director - Property Eagle

Gurmet Chumber
Director - C & R Properties

Tracy Churchwood
Managing Director - Churchwood Stanley Ltd

Miroslaw Cielecki
Director - Whitegates

Ana Ciobanu
Landlord

Dilly Clack
Property Manager - Unique Property Company

Fraser Clark
Director - EDEN Lettings & Sales
Anna Clark
Owner - AC rentals

John Clark
Co-Owner - AC Rentals

Tim Clark
Director - White Kite (Burton) Ltd

Linda Clark
Director - Cameron Clark Properties Ltd

Andrew Clarke
Landlord

Andy Clemence
Landlord

Paul Cleverly
Director - Pink Move Limited

Keith Cleverly
Landlord

David Cliffe
Managing Director - Cliffefall

Leanne Clinton
Lettings Compliance & Support Executive - PR Lettings & Management Ltd

David Clinton
Director - DS Greenside Management Ltd

Rachel Clive
Landlord

Gillian Clyne
Director - Friar Lettings

Tina Coates
Landlord - Tlchomes
Chris Cockburn
Business Development Manager - Let It

Alessandro Cockman
Director - Tower Estates London

Ian Colban
Lettings Director - Matthew Anthony

Anthony Cole

Peter Collier
Lettings Manager - Richmond Property services

Daniel Collins
Director - Lloyds Residential Property Services Limited

Paul Collyer
Director - Trusthaven Asset Management Limited

Jake Colwill
Director - Innova Property

Jeremy Comber
Director - Comber And Company

Christopher Connell
Managing Director - ECC Property Investments Ltd

Patrick Connolly
Lettings Director - James Anderson Estate Agents Ltd

Matthew Connolly
Landlord

Mel Constantinou
Regional Partner - Knight Frank

James Conway
Owner - Tall Building Ltd
Tracy Cook
Lettings Manager - Mackenzie Smith

Mike Cook
Director - Skara Ltd

Patti Cook
Emphatic Solutions Ltd

Jason Coombes

John Cooper
Landlord

Roy Cooper
Director - Northern Keys Ltd

Hayley Cooper
Property Manager - HNC Lettings & Property Management

Richard Copus
Consultant Auctioneer & Period Property Specialist - Robert Williams

Philip Corbisiero
Director - County and City

James Corcoran
Sale & Lettings Manager - Northwood

Rebecca Cordery
Letting Negotiator - Oakwood Estates

Robert Cornes
Principal - Hunters Whetstone

Shannon Corrigan
Area Manager - Oakwood Estate Agents

Tom Cosens
Lettings Director - Woodlands Lettings
Brad Cottrell
Manager - Westcoast Properties

Jonathan Court
Director - Wallis Lettings Limited

Nick Courtney
Managing Director - Courtney Green

Matthew Cousins
Director - Inspire Estate Agents

Kirsty Cove
Sales and Lettings Director - FleetMilne

Margaret Cowley
Director - Rosemount Property

Leon Coy
Director - JLC Properties & Lettings Ltd

Ian Crampton
Sales Director - Ferndown Estates

Eliza Creighton
Partner - Inter-let

Peter Croft
Senior Branch Manager - Linley & Simpson

Mary Crofts
Head of Lettings - Pocock & Shaw

Jonathan Crofts Davies
Lettings Manager - Crofts Davies & Co

Dean Crossley
Estate Agent - Square Quarters

Martin Crown
Managing Director - Martin & Co (Nottingham)
David Crowther

Katie Crowther

Danielle Csete

Rachel Cuthbert
Director - Warbrick Property Company Limited

Neil Cutler
Landlord

Deirdre Cutler
Landlord

Anna Czaban
Head of Property Management - Knight Frank

Eliana D'Alessandro
Director - Mind the Flat Ltd

Matthew Dabell
Director - Aspire Fulham Ltd

Jonathan Dahms
Director - The Property Management Co.

Chris Daniel
Director - Possession Friend

William Darby
Property Developer

Joshua Davies
Managing Director - 8thrice property solutions

Kevin Davies
Social Housing Provider

Matthew Davies
Finance - Northwood (West Sussex) Ltd
Andrew Dawson
Managing Director - Roberts Residential Ltd

Kate Dawson

Matt Day
Landlord

Cornelius De Bruin
Managing Director - De Bruin Property

Margaret De Suys

Jennie De-Vriendt
Landlord

Roger Dean
Director - Roger W Dean & Co. Ltd

Colin Deer
Business Owner - Chase Buchanan

Aaron Dennett
Senior Negotiator - Cavender Estate Agents

John Dennis
Director - John P Dennis & Son Ltd

John Dent
Landlord - QD Property Development

Jane Derbyshire
Director - Broomheads Property Management

Thomas Desmoutier
Managing Director - Fixflo

Lisa Dickens
Consultant - Penny And Lisa Lettings

Jacqui Dickinson
Tenancy Manager - Callaways
Matt Dilkes
Director - Christopher Shaw Residential

Pauline Dixon
Proprietor - Rents Property Management Services

Lara Dixon
Lettings Manager - Lhh Residential

Daniel Doherty
Director - Daniel Paul Residential

Kerry Dolan
Property Lettings Manger - Kerry Dolan Property Management

Trevor Doran
Owner - Pure Lettings Limited

Faith Douglas

Daniel Dow
Director - KT Residential Ltd

Trevor Downes
Proprietor - Abertillery

Elsada Doyley

Paul Dubberley
Director - Home4

James Duffy
Manager PRS - Callaways LTD

Karan Dulai
Lettings Negotiator - Lv Property

Holly Duncan
Head of Property Management - Elliott James Prime Residential

Mark Duncan
Tess Dunlop
Landlord

Stuart Dunsmore
Lettings Director - Hortons Estate Agents Ltd

Andrew East
Director - Toplets Student Accommodation

Julian East
Manager - Blumariin Limited

Richard Eddison
Director - eddisonwhite

Nicola Eddison
Director - eddisonwhite

Robert Edwards

Megan Eighteen
Business Development Manager - Haslams Estate Agents Ltd

Nigel Ellis
Director - Prickett & Ellis

Rutland Elms
Director - Elms & Partners Ltd

Darren Emedo
Manager - 1st Choice Estates

Paul Emery
Director - Invicta Letting Agents
Allison Emms Marla
Director - Belvoir Newark

Archers Estates
Director - Archers Estates

Sarah Evans
Managing Director - Cardea Lettings and Management Ltd

Judy Evans
Landlord

Uju Ezeoke
Landlord

Robert Farrow

Fiona Fay
Associate Director - Yooodle Ltd

Charles Ferguson
CIO - Davie

Kerry Ferguson
Branch Manager - Linley & Simpson

Argentina Fernandes
Director - Property Manager 4 U Ltd

Simon Fice
Owner / Director - The Online Letting Agents Ltd

Simon Fields
Property Manager - Fields Property

Simon Fisher
Director - Absolute Sales & Lettings Ltd

Suzanne Fisher
Director - Fisher and Co

Martin Fitzgerald
Co Director - M.A.Fitzgerald Ltd
Barry Fitzpatrick
Landlord

Nicola Fleet-Milne
CEO - FleetMilne

Michael Foley
Landlord

Maxine Fothergill
Managing Director - Amax Estates & Property Services Ltd

Cris Fowler
Home of Property - Commercial Director

Garrett Foxon
Director - LettsPay

Kelvin Francis
Partner - Kelvin Francis & Co

Caroline Franklin
Director - Franklin Residential Limited

Debbie Franklin
Operations Manager - DW Smith & Co

James Fraser
Owner/Director - Daisychain Properties Ltd

David Freund
Director - Gimo Properties Ltd

Jake Frew
Director - Frew Properties

Sylvie Froger
Director - Simply London

Mitchell Frost
Landlord - Kingswood Estate Agents
Monique Fulford
Sales Negotiator - Phillips Smith and Dunn

Peter Fuller
Lettings Director - Haslams & Michael Hardy

John Furniss-Wright
Landlord

Stephen Galley

Vikash Gandhi
Director - Weaver Rose Estate Agents

Kishan Gangadia
Associate Director - London Wall Partners

David Gape
Director - Independent London Estate Agents

Stephen Garrett
Landlord

Ron Gibbons
Director - Blakes Chartered Surveyors & Estate Agents

Victoria Gibbs
Director - Abode

Sue Gidney
Managing Director - Home Finders Swindon

Jonathan Gilbert
Director - Abacus Letting Services

Dean Gill
Operations Director - Martin & Co Sheffield and Worksop

Mina Giordano

Bev Gladston
Landlord
Kim Glover
Director - Top Notch Homes SW Ltd

Linda Godden

Amy Godden
Regional Manager - Northwood

Jane Godfrey
Landlord

Neal Gohill
Director - Ryan Hill

James Gordon
Property Manager - Jmwbarnard Management

Kim Gottlieb
Director - Tates (Agents) Ltd

Rob Govier
Director - The MHI Group Ltd

Steve Graham
Landlord

Caroline Graham-Brown
Landlord

Mark Gray
Director - Elevation Lettings

Steve Gray
Partner - Hallmark Properties

Simon Greaves
Managing Director - Colebrook Sturrock 2014 Ltd

Ben Grech
CEO - Reposit

Brian Green
Landlord
Clinton Green
Director - Christies Residential

Peter Green
Director - Northwood (West Sussex) Ltd And Northwood (Worthing) Ltd

Darren Greenaway
Managing Director - Greenaway Residential

Lauren Greenwood
Lettings Manager - Yooodle

Debbie Gregory
Landlord

Simon Gresswell
Director - Finlay Brewer

James Griffin
CEO - Pilgrims Residential Lettings Ltd

Steven Grinberg
Director - Property Found

Smartlandlords Group
Private Rental Sector Compliance - SLG

Barry Guppy

Ray Guselli
Director - Cumbria Business Group Ltd and Parkview Residential Services Ld

Laurent Guyot
Landlord

Kim Hack
Owner - Astra

Kevin Hailey
Associate Director - Eddisonwhite
Rob Hall
Sales Director - Assured Lettings

Mr & Mrs Hall
Landlords

Martyn Halls
Lettings Manager - Rendells

Toby Hamilton
Director - Coapt Ltd

Jayne Hammond
Landlord

Richard Hancock
Founding Director - Hancock and Partners

Simon Handley
Director - Handley Gibson

Sam Hannon
Director - Hannons Estate Agents and Lettings

Terry Hannon
Director - Hannon Holmes

Rachel Hardwick
Landlord

Kirk Harland
Director - Harland Homes Ltd

Morton Harper
Landlord

Luke Harris
Director - Luke Harris Residential Limited

Sylvie Harris
Director of Lettings - INHOUS
Keith Harris
Landlord

Adele Harris
Landlord

Guy Harris
Director - AccessiblePRS

Janet Harris
Director - J & P Harris Ltd

Beverley Hartland

Jennifer Harvey
Administrator - Cleddau Properties Ltd

Johanne Harvey
Director - JH Lettings Limited

Mark Harvey
Landlord

Neil Harvey
Landlord

Timothy Hassell
Managing Director - Draker Lettings

Sally Hatcher
Director - Sally Hatcher Estates Limited

Katie Hatten
Director - Foden Property

James Hawley
Chief Operating Officer - Eightfold Property

Robert Hawley
Sales Director - Eightfold Property
E Hayden
Landlord

Georgia Hayes
Landlord

Simon Hayes
Director - CDR Electrical

Sarah Hayes
Director - Hayes Residential Lettings

Tom Hayman
Partner - Joyce

Carmel Hazan
Managing Director - W A Sherratt Ltd

Niall Hebron
Franchise Owner - Hunters Hornchurch

Gerry Heggie
Director - Hirsch Estates

Stephen Hember
Director - Martin & Co Widnes

Sián Hemming
Metcalfe - Operations Director

Cormac Henderson
Founder CEO - Springmove

Jamie Henderson
Assistant Area Lettings Manager - Oakwood Estates

Stephanie Hendries
Growth Marketing Manager - Goodlord

Neil Henwood
Director - Trelawny PM Ltd
Vasos Herodotou

Josh Heron
Lettings Director - J D Gallagher Estate Agents

Adam Hesse
Director - Coworth Homes

Colin Hewitt
First Trustee and Settlor - Hewitt Settlement Trust

Glyn Heywood
Company Director - Heywood estates

Geoffrey Hill
Director - Hill Rentals Ltd

Simon Hill
Managing Director - Jonathan Hunt Lettings Limited

Gary Hilldrup

Caroline Hiller

Chris Hocking
Director - RPM Letting Agents

Stella Hockley
Director - Stella Hockley Property Management Limited

Julie Hodge
Director - Phoenix Lettings and Property Management Limited

Alec Hodgson
Landlord and Energy Assessor - Mr Alec Hodgson

John Hodnett
Director - Acorn PM Ltd
Claire Hogg
Property Manager - A & E Estates

Richard Holdcroft
Director - Croft & Co Lettings

Richard Holder
Partner - Homehunters Property management Ltd

Sarah Holdsworth
Director - Prime Property Management (Essex) Ltd

Stuart Hollier
Director - Amber Court Lettings Ltd

Hannah Hollingworth
Director - Maristella Property

Jack Holloway
Lettings Manager - Oaks Estate Agents

Don Holmes
Managing Director - Go Direct Lettings

Carolyn Holt

Karen Holtge
Landlord

Lee Hopkins
Director - Henry Adams Letting

Mark Hopkins
Managing Director - Hopkins Property Developments

Gary Horgan
Director - Martin & Co

Paul Martin Hornsby Frics
Principal - Hornsby Estate Agents
Samantha Hossack
Director - tlc Estate Agents

Imam Hossain

Chris Hough
Acting Head of Property Management - Ezytrac Property Management Ltd

Ritchie Houmrani
Landlord

Helen Hourquet
Member Compliance - Zoopla

Richard Howes
Director - Glawood Limited

Chris Howlett
Director - Goddard & Co Suffolk Ltd

Jonathan Howse
Landlord

Stephen Huckstep
Director - Huckstep

Susan Huckstep
Director - Huckstep

Jodie Hudson
Administrator - Berwicks

Tim Hudson
Branch Manager - Oliver Burn
Ann Hughes
Landlord

Helen Hull
Sales Manager / Valuer - Whitegates

Sue Hull

Matthew Hunt
Director - Amber Court Lettings

Ian Hunter
Landlord

Andrew Hunter
Owner - Andrew Hunter Management

Julie Huntingford
Landlord

Stuart Hurst
Director - Martin & Co Mansfield

Christopher Hutchinson
CEO - Canopy

Earl Hyman
Managing Director - Martin&Co

Kim Ibsen
Landlord

Patricia Idugboe
Director - Crestwell Property Consultants

David Inglis
Landlord

Roy Inman
Director - Sure Move Estates Ltd

David Innes
Tariq Iqbal
Partner - Falcon Estate

George Irving
Adviser - SI

Alan Isaacs
Director - Camerons Stiff & Co

Michael Ivanson
Director - Mibp Ltd

Krzysztof Jackowski
Landlord

Graham Jackson
Director - interlet Property Limited

Meg Jackson
Head Of Property Management - CBRE Ltd

Manoochehr Jafari-Nahad
Landlord

Alex James
Landlord

Paul Jardine
Head of Asset Management - Hml Ltd

Sulman Javed
Accounts Manager - Cardiff Properties Management

Rosemary Jeboo
Landlord

Stuart Jenkins
Local Lettings Partner - Purpleby

Darcie Jenner
Sales & Lettings Negotiator - Northwood Sales & Lettings
Belvoir Jitu
Manager - Belvoir LNE

Derek Jobes

Clive Johnson
Landlord

Larraine Johnstone
Landlord

Glenn Jones
LL - PJR

Graham Jones
Branch partner - Payne & Co

Arran Jones

Sally Jones
Consultant - Housebuy

Simon Jones
Director - Archer Bassett

Michael Jones
Landlord

Katie Jones
Director - LK Lettings Co.

Matt Joyce
Lettings Manager - PM Lettings

Ailsa Judd
Director - Evenmore Properties

Stephanos Kaisharis
Director - Esskay Properties Limited

Adnan Kajibu
Lettings Manager - Victor Michael Ltd
Gideon Kaldezar
Director - Sallie Wood Ltd

Michelle Kaniuk
Landlord

Chaim J Kaufman
Director - H R supplies Ltd

Richard Kay

Phil Keddie
Sunshine Rentals Ltd - Expert Property Landlord Consultant

Susie Keen
Landlord

Andrea Kemp
Landlord

Graham Kemp
Director - KEDA Property Ltd

Beverley Kennard
Partner, Head of Lettings Operations - Knight Frank LLP

John Kennedy
Director - Kennedy Mulcare

Alan Kentfield
Lettings Director - Michael Jones Lettings

Paul Kenzitt

Cathy Kerr
Company Secretary - TKerr and Sons Limited

John Kerr
Manager - Your Partner In Property
Cara Khadaroo
Director - Star Lettings and Property Management Ltd

Imran Khan
CEO - PropertyLoop

Iqbal Khan
Owner - Zone Realties Nagpur

Usman Khan

Robert Kidd
Director - Citispace Group

Yas Killick
Branch Manager - Cavender Estate Agent

Thomas King
Sales & Lettings Director - Kings Estate Agents

James King
Lettings Manager - Drewery

Ian King
Director - Humberstones Homes Limited

David King
Landlord

Paul King
Director - The King Partnership

Adam Kingswood
Director - KINGSWOOD Residential

Karen Kirk
Landlord

Dominic Kleywegt
Graham Kluk
Owner - Gakprop Ltd

Stefan Knight
Business Manager - Andrews Property Group

Adam Knight
Finance Director - Saint Andrews Bureau Limited

Peter Knight
Founder - Property Academy

Warren Knight
Director - Property Moves

Steven Kontou
Director - SK Estate Agents

Nicholas Kyprianou
Lettings Manager - The Property Company

Nik Kyriacou
Sheldon Bosley Knight - Business Development Manager

Anil Lad
Director - Call Collect Sheffield

Nilesh Lakha
Landlord

Chris Lakin
Managing Director - Lakin & Co

Atul Lamba

Graham Lamberton

Pambos Lambrou
Landlord

Robert Laverack
Director - John Taylors (Lincolnshire) Ltd
Spencer Lawrence
Lettings Director - Paramount

Rob Lawrence
Director - Ivy Lane Property Ltd

Zac Lawrence
Proprietor - Westie Lettings

Samantha Lawrence
Director - Waterman Residential Lettings Limited

Claire Lawson
Director - Hedgehog Hill LLP

Murray Lee
Managing Director - Dreamview Estates

David Lee
Property Manager - TBG

Andrew Lee
Managing Director - Andrewlees Lettings

John Leeson
Managing Director - Belgarum Estate Agents Limited

Paul Lehan
Director - Castlehill Estate Agents

Avi Leitner
Director - Austin Management

Michael Leney
Director - MightyM

Ben Lenton
Owner - Lenprop
David Leonard
Senior Negotiator - Chas Lowe Estates

Nick Leslie
Landlord

Maxine Lester
Director - Maxine Lester Lettings & Property Management

Jeffrey Lestz
CEO - Genistar

Ellie Lethaby
Property Consultant - Marc and Partners

Alison Letts
Company Director - Letts Property Group Ltd

Spencer Levene
Managing Director - Rhw Estates

Brian Levitt
Landlord

Kate Lewis
Manager - Sandersons UK

Beverley Lickfold

Jay Lighten
Director - Lighten Lettings

Roger Lightfoot
Director - Hobbs Parker Estate Agents LLP

Beverley Lind
Maintenance Manager - Northwood

Caroline Lindegaard
Managing Director - Limetree Property

Chris Littler
Manager - The Frost Partnership
Chris Lloyd

Mike Lomas
Retired

Stephen loynes
Managing Director - SL Star Services

Maria Lucas
Company Director - Strafford Lucas and Associates Limited

Paul Lund
Director - Davis & Lund

Michael Lynch

Dan Lyons
Director - Eightfold Property

Sonja MacGregor
Managing Director - Convey With me

Julie Mackenzie
Landlord

Julie Macrae
Director - JJM (East Anglia) Ltd

Sheena Maddock
Landlord - Maddock Lettings

Sue Magee
Director - Heath Estates

Alex Maggs
Usher - Compliance Officer

Jackie Magnani
Owner/Director - All Aspects Letting Services Ltd

Holly Magor
Lettings Negotiator - Oakwood Estates
Lisa Maguire
Marketing - Montreaux

Alethea Mahil
Owner - ADM

Joe Maidman
Lead Engineer - Reposit

Sophie Malick
Property Manager - Oakwood Estates

Stuart Mapplethorpe
Landlord

Scott Marbrow
General Manager - Milburys

Angela Marden
Owner - Angela Marden Estate Agents

Kate Mardon
Senior Property Manager - Oakwood Estates

Andrew Marflow
Director - MPN Services Ltd

Martinez Maria
Landlord

Julian Markson
Director - My Property Rentals Ltd

Bobby Marshall
Director - Harrison Lavers & Potbury's

Sarah Marshall
Director - Luna Move

Paul Martin
Principal - Hornsby Estate Agents
Maureen Martin

Richard Martin
Landlord

Victor Martin
Landlord

Gabriella Marzola
Director - Browne

Louisa Maskell
Landlord

Ann Matheou

Ben Matthews
Director - Benjamin Matthews

Keith Matthews
Director - Matt Properties NE ltd

Iain Maxwell
Landlord

Diane Maxwell
Partner - Beechfield Properties LLP

James May
Landlord

Mark Maynard
Landlord

Steff McGinn
Director - S&R Lettings LTD

Diane McArthur
Owner - Parker Property Developments

Andrea Mccarrick
Director - A J Properties
Stephen McCarron
President - Propertymark

Jemma McCarthy
Admin - Andrew Louis

Shaun McFaul
Director - Highgate Homes

Clarissa McGillycuddy
Tenancy Progressor - CBRE

Debbie McGrath
Director - Kaledan Properties Ltd

Michael McLean
Partner - K&M Mclean Property

Katharine McLean
Managing Director - L.U.V Property Ltd

Jeff McMaster
Landlord

Melissa McMullan
Landlord

Shirley McNabbirks
Lettings Administrator - Elliott & Co

Tony McNichol
Managing Director - 2 Let Agency

Simon McWilton
Head Of Property Management - Michael Jones & Company

James Meads
Director - Simon Fields Limited

Ewan Merer
Lettings Manager - Right Place Property

Peter Merrick
Landlord
Sarah Merritt
Senior Lettings Negotatior - Oakwood Estates

Edward Mersey
Landlord

Ann Louise Merton-Stebbing

Nihat Methi
Landlord

Katie Meyer
Property Manager - Woodlands Lettings Ltd

Elena Meyers
Owner - E-Zy Properties

Andrew Middlecott

Filippa Milioto

Jacqueline Miller
Managing Director - Donald Ross Estate Agents

Anand Mistry
Director - Elsewhere

Simon Mitchell
Director - Mitchell Design Consultancy

Steve Moir
Director - Hennings Property Centres

Redvers Mole
Director - R.&D. Aggregates Ltd

Yvonne Monaghan
Director - Mon 5 Property Ltd
Daniel Monahan
Owner - County Property Management

Brian Moore
Landlord

Susan Moore
Landlord

Dawn Moore
Landlord

Jonathan Morgan
Director - Kennedy Properties (Midlands) Ltd

Trevor Morgan
Principal - Morgan & Co

Susan Morgan
Landlord

Maria Morgan-Geen
Managing Director - Platinum Properties

David Morley
Director - Melius Careers

Damian Morris
Managing Director - Adams

Paul Morris
Managing Director - Scoffield Stone

Edwin Morris
Owner - EM&CM Letting LLP

Tina Mulberry
Landlord

Robert Mulcrone
Director - Keeleys Lettings Limited
Tom Mundy
COO - Goodlord

Susan Mundy
Landlord

Geoff Munns
Director - Martin & Co (Guildford)

Ross Munro
Director - Right Let Leeds

Steven Murray
Operations Director - Rentlocally.co.uk Ltd

Yunus Musa

Khalid Mushtaq
Manager - Kilmers

Beverley Myott
Director - County Lettings (Hertford) Ltd

Bruce Napier
Director - Morton Napier

Stuart Nash
Managing Director - Stuarts Residential Ltd

Mohammed Naveed-Younas
Property Manager - A&S Properties Glasgow

Jonathan Naylor
Chairman - Flatfair

Richard Neale
Director - Martin & Co. Guildford

Alex Negulescu
Landlord

Andre Neves
Lettings Director - Churchill & Mathesons Estate Agents
Evie Newall
Lettings Manager - Yooodle

Peter Newman
Partner - Arena Lettings

Sara Newson
Director - REALM 47

Mike Nicholas
Landlord

Barbara Nicholas
Director - 1 Chantry Road Limited

Peregrine Nicholls
Director - Key Property Associates Ltd

Carly Nichols
Auxiliary Services Manager - John Shepherd Lettings

Nicol Nightingale
Managing Director - Fothergill Wyatt Ltd

Lynn Nobes

Daniela Nowak
Renewals Negotiator - Northwood West Sussex Ltd

Alex Nunzi
Director - Black Katz

Richard O'Brien
Landlord

Timothy O'Donoghue
Landlord

Harry O'Neill
Director - HJ Homes Ltd
Jessica O'Neill
Director - Harrison Jacks

Noreen O'Shea
Landlord

Suzy O'Shea-Nathaniel

Gemma O'Sullivan
Director - Gem Lettings

Martin O'Hearne
Director - M&G Properties Ltd

Kieran O'Moore
Director - Brunton Residential

Patricia Ogunfeibo
Landlord

Andrew Oleary
Director - Ashfield Properties

Sam Olliver
Regional Property Management Director - Michael Jones & Company

Michael Onah
Managing Director - Emingo Limited

John Oneill
Landlord

John ONeill
Landlord

Hendrick Onuh
Support Worker - CAAP

Nneka Onyeneke
Landlord

Tony Orchard
Darren Owen
Sales Manager - Infinite Property Ltd

Rob Owens
Research Lead - e.surv

Oladapo Bendele Oyewobi
Director - Ojb Ventures Properties International Investment Ltd

Neal Palk

Alison Palmer
Senior Compliance Officer - Nicholas Humphreys

Thomas Palmer
Head of Lettings - Watsons Property

Chris Palmer
Director - Ashley Milton

Harry Pantelides
Managing Director - Homelink Residential Ltd

William Parfitt
Director - ForestMarble Ltd

Vishwan Parianen
Landlord

Georgina Parker
Lettings Director - Andrews Property Group

Marcus Parkinson
Director - Lime Tree Lettings and Sales

Sejal Parmar
Accountant - Carecamp Ltd

Stephen Parnell

Dominic Parr
Managing Director - Parrhouses
Jonathan Partridge
Landlord

Edward Passmore
Director - Phillips Smith and Dunn

Dharmesh Patadia
Director - D+J Lettings & Property Management Ltd

V Patel

Manoj Patel
Director - Hamlet Homes Warrington

Mehul Patel
Director - Streetwise Lettings

Sandip Patel
Company Owner - Robertson Phillips

Ashvin Patel
Senior Partner - Acorn Property Services

Ryan Pathak

Stephanie Paton
Director of Lettings - Redman Casey Lettings Ltd

Joshua Patrick
New Business Consultant - Palmer and Partners

Matthew Pattenden
Senior Lettings Manager - Knight Edmonds

Simon Paul
Managing Director - Thepropertypeople Ltd

Gintare Pauliunaite
Property Manager - Martyn Gerrard
Ian Payne
Landlord

Leanne Pearson
Landlord

Henry Pease
Director - On Purpose Property Ltd

Jeffrey Penneck
Managing Director - Abode UK

Julian Pennington
Director - Pennington Surveyors Ltd

Becky Perry
Operations Director - Assured Lettings

Wendy Peterman
Owner - Peterman Associates Ltd

S Peters
Manager - Vhsl Property Ltd

Wakefield Philip
Director - Martin and Co Weymouth

Ellie Phillott
Director - Athelstans

Helen Phillott
Director - Athelstans

Shaun Picken
Director - McFarlane Sales & Lettings

Lindsay Pickles
Director - Westcoast Properties

Paul Pieri
Managing Director - Paul Pieri Estate Agents Ltd

Guy Piggott
Chairman - Humber Landlords Association
Luke Piggott
Senior Partner - GAP Property

Barry Pike
Director - The Lettings Centre Ltd

David Pike
Property Manager - Nicholas Humphreys Estate Agent

Martin Pitick

John Plowright
Director - CAM Properties (Hayle) Limited

Philip Pocock
Director - Dibden Manor Pigs Ltd

Douglas Pointing
CEO - Accsum Ltd

Petr Pokorny
Landlord

Anish Popat
Director - Seths Estate Agents

Nick Pope
Landlord

Andy Powers
Managing Director - Martin & Co Solihull

Eduardo Prato
Director - Vector Properties Ltd

John Preece
Director - Ra Flatt

Michael John Prest
Senior Partner - John Prest Property Management
Claire Price
Director - CJ Hole

David Price
Director - Fawlty Flats Ltd

Stuart Price
Landlord

Neil Prince
Director - Connorprince

Margot Pritchard
Property Investor - Davourn Rental Homes

Helen Pritchet
Branch Manager - cmRENT

Newman Property Portfolio

Charlotte Puddy
Director - Abode Property Management (NW) Ltd

Ben Pugh
Sales & Lettings Manager - Northwood

Eileen Punter
Director - Red Squirrel Property Shop Ltd

Seema Purohit
Director - vhsl Property ltd

Lee Purohit
Director - Vhsl Property Ltd

Gareth Purshouse
Director - Hume & Co Estates

Robert Pusey
Proprietor - The Canberra
Michael Pye

Richard Rabin
Lang Town & Country - Director

Steven Radford
Managing Director - Radland Construction Ltd

Michelle Rafferty
Lettings Manager - Aztec Lettings

Peter Rainsbury
Director - PSR Developments Ltd

Sharon Rainsbury
Landlord - Director Shachris Ltd

John Raistrick
Managing Director - JD & LD properties

Sana Ramzan
Property Manager - A&S Properties Glasgow

Ran Ran

Emily Randall
Letting Negotiator - Connells

Nicola Randall
Lettings Manager - Penny and Sinclair

Lauren Rapacioli
Lettings Manager - Hadleigh Residential

Arvind Rattu
Property Manager - LV Property

Adam Ray
Associate Director - Excel Property Services

Debra Rayner
Alexander Reach
Director - Davies & Davies Estates Agents

Romain Record
Director - Toplets Property Services Ltd

Mary Redd
Worker - Housing Commission

Max Redgrave
Managing Director - Nicholas George Ltd

Adam Reed
Managing Director - Reed Residential

Cath Reed
Landlord

Ben Reeve

William Reeve
CEO - Goodlord

Ben Reeve
Company Director - T.R.I.L.Ltd

Paul Reeves
Director - Parc Housing

Helen Reeves
Office Manager - Finders Keepers

Mark Reynolds
Director - Cooksleys

Chris Reynolds
Landlord

Anthony Richard
Landlord

Marc Richards
Director - Gibbins Richards Lettings
Christopher Richardson
Partner - CA Properties

Gillian Richardson
Landlord

Lee Ridgeon
Lettings / Property Manager - Hi Residential

Nicola Ridgwau
Landlord

Nicola Ridgway

Nicholas Ridgway-Manson
Landlord

Candida Ridler
Landlord

Sarah-Jade Rigler
Lettings Negotiator - Phillips Smith And Dunn

Stuart Rillstone

Chris Rippon

Chris Roadknight
Senior Lettings Negotiator - Woodlands Lettings Ltd

Emma Roberts

Jonny Roberts

Mick Roberts
Owner - Advance

Susan Roberts
Properties Manager - Arden Properties (Gloucestershire) Ltd
Mick Roberts
Director - Advance Properties

Janice Roberts
Landlord

Michael Roberts
Landlord

Aston Robinson
Director - The Letting Agency

Neil Robinson
Director - Neil Robinson Estate Agents

Simon Robinson
Director - Orchards Homes Ltd

Steven Robinson
Landlord

Marcel Roccia
Managing Director - Rochills ltd

Pierre Roche
Company Director - Roche Property Enterprises Ltd

Paul Rock
Managing Director - The Letting Company UK Ltd

Bill Rockett
Director - Rockett Home Rentals

Alan Rooke
Portfolio Owner - A and N Properties

Helen Rooney
Owner - HR

Grahame Rose
Director - RSS Property Investments Ltd

Richard Rowledge
Director - Eastrow Associates
Mark Rushe
Director - Stonehouse Homes Ltd

David Russell
Managing Director - Happy Homes Residential Lettings Ltd

Gordon Russell
Landlord - Shripney Manor Estate

Raffaele Russo
Director - Mortar Group

James Rutter

Stephen Salvage
Proprietor - Bradleys Property Management

David Salvi
Director - Hurford Salvi Carr

Saj Samson

Claudine Sanders
Manager - Leonard Leese

Ethan Sassower

Paul Saunder
Director - Surelet Cheltenham Ltd.

Stephen Saunders
Managing Director - Martin-Saunders Property Services Ltd

Charlie Saunders
Managing Director - Assist Inventories

Daphne Savva
Proprietor - HESTIA ESTATES

Hayley Scammell
Director - Michael Jones
Joe Schupper
Managing Director - YSL PROPERTIES Limited

Thomas Scott
Director - Amherst Asset Management

Jane Scroggs
Owner - Beam Virtual Property Support

Gaurav Sekhri
Director - Lyons London (Clever Property ltd)

Lidia Sendega
Office Manager - Latymers Estate Agents

Martyn Sergent
Director - Belvoir Stratford

Aarti Sethia
Landlord

Mohammed Shafi
Landlord

Niraj Shah
Director - Oyster Properties

Hiten Shah
Director - The Property Shop

Sawan Shah
Lettings Manager - Maison Estate Agents

M.Hamza Shaikh
Investor - Gold Bridge Property

Kamal Sharma

David Sharron
Principal - Property Consultancy Services
Douglas Shaw
Owner - Shaws

Andrew Shaw
Director - Fairfax residential lettings

Neil Shaw
Director - Chinneck Shaw Ltd

Susan Shaw
Director - Chinneck Shaw Ltd

Marlene Shaw
Director - Shaw Rentals LLP

Mike Shelton
Managing Director - Martin & Co Basingstoke

Patrick Shepherd
Landlord

Christine Shepherd
Landlord

Richard Sherwood
Director - Roy Peters Estate Agents

Trevor Sherwood

Angus Shield

Salome Shina
Administrator - Stella Lange Llp

John Short
Landlord

Reimar Simmons
Owner - On the Spot Property

Karen Simmons
Owner - On the Spot Property
Pamela Simone
Director - Edmonton Estates Ltd

Damien Simone
Director - Edmonton Estates Ltd

Glover Simong
Director - Simply Residential

Grant Simpson
Director - Martin & Co Cupar

Jaspal Singh
CEO - LV Property

Gurdip Singh
Manager - Spectra Property and Services Limited

Jazz Singh
Director - CMS Home Ltd

Ajay Singh
Sales Negotiator - LV Property

Gillian Sinnott
Director - The Accommodating Company Partnership Ltd

Aman Sirpal
Managing Director - Eden Estates

Eva Sjoholm
Design Analyst - Sjohill

Jim Skelton
Landlord

Philip Skorochod
Director - Martin and Co

Demelza Smith
Investor - DS Land and Development Ltd
Emma Smith
Director - Pedersen Smith Developments Ltd

Henry Smith
Director - Glemham Estates

Ewen Smith
Proprietor - Scottish Highland Property Services

Julian Smith
Director - Greenacre & Co

Vicky Smith
Letting Manager - HomeSweet Homes

Kenneth Smith
Landlord

Naomi Smith
Landlord

Pete Smith
Landlord

Michelle Smith
Landlord

Ewen Smith
Proprietor - Scottish Highland Property Services

Peter Smith
Principal - Cooper Smith

M Smith

Tania Smith
Director - Foxtons

Michelle Smith
Landlord

Simon Snow
Director - Right 1 Ltd
John Socha
Managing Director - Socha Estates

Julie Spayne Farla
Managing Director - Devon Rose Estate Limited

Denis Spence
Managing Director - DM & V Spence

Valerie Spence
2IC - DM & V Spence

Jacky Squire
Managing Director - Squire Property Management

Nicola Stanford
Lettings Officer - Miles & Son

Nicola Stanway-Mcswan
Director - Addressed Property Services Ltd

Iain Steene
Director - Ashton & Grosvenor Estate Agents

Jack Stephens
Director - JBS Bristol

Fiona Stephens
Director - Sukadu Ltd

James Stevens
Partner - Stevens Estate Agents

Elizabeth Stockdale
Owner - Fairford Property Letting

Robert Stocks
Director - Stocks Property Management Ltd

Adrian Stone
Director - Blue Bubble Lettings Limited

Katie Stone
Lettings Manager - WW Estates
Daniel Strain
Director - Nicholas Humphreys

Jan Strassen
Owner - Mole End Property

Max Strelling
Director - Barton Wykes Ltd

Veronica Strongman
Company Director - Bournecoast Ltd

Avery Sturgess
Landlord

Devinder Sudera
Director - Ash Mann Ltd

Michael Summerskill
Head of Property Management - Howard&Manning

Marco Sun
Director - Marc & Partners

Darshan Sunger
Director - Three Oaks

Gemma Sutcliffe
Managing Director - Maristella Property

Marcus Swift
Director - The Lettings Club

Glenys Sykes
Adminstration - Phillips Smith & Dunn

Chariton Symeou
Director - Hanley Estates Limited

Chariton Symeou
Director - Hanley Estates Limited

Mark Szumski
Director - Assured Property Services
Richard Taylor
Owner - Taylors Estates

David Taylor
Director - Bourne Estate Agents

Sarah-Jane Taylor
Operations Director - Preston Baker & Associates Ltd

Zoe Taylor
Director of Operations - Assist Inventories

Luke Thirkettle
Director - Stratfords Residential Lettings Ltd

Kyleum Thomas
Finance Manager - Optionz Supported Housing LTD

Mark Tidridge
Chief Executive Officer - Lemojo

David Todd
Director - Sarum Builders

Les Tolley
Partner - LA Property Services SW

Gema Torres-Solis
Landlord

Elisabeth Townend
Director - Martin and Co Wokingham & Bracknell

Erica Townend
Director - Hills Boot Stores

Jane Townsend
Director - Townsend Letting & Management

Liam Townsend
Sales and Lettings Negotiator - Northwood

Rodney Townson
Landlord
Jeremy Traynor
Director - Traynor & Company Ltd

Becky Troisi
Director - Martin & Co (New Milton)

Robert Trollope
Director - Lettings One Ltd

John Trueman
Owner - Trueman Estates

Hong Ki Tse
Educational Technologist - City, University of London

Greg Tsuman
Director - Martyn Gerrard

Colette Tuckey

Peter Turkington
Company Secretary - PC Properties

Peter Turkington
Manager & Company Secretary - PC Properties

Sian Turner
Director - Martin&Co Derby

Debbie Turner
Associate Director - Domvs

Neil Turrell
Landlord

Milica Tutus

Ben Tyers
Regional Sales Manager - IRE UK

Ed Tyman
Operations Director - Sowerbys
Robert Ulph
Managing Director - Pennington Surveyors Ltd

Matthew Underhill
Partner - SchroedersBegg Chartered Building Surveyors

Massimiliano Urbinati
Lettings Manager - Ariston Property

Jean-Paul Van Cauwelaert
Director - Findlay Property Investment Ltd

Paul Van Halle
Associate Director - Martyn Gerrard

Marija Vanaga
Managing Director - Business Rock Property Ltd

Ingus Vanags
Director - Business Rock Property Ltd

Becky Vanstone
Landlord

Dan Vegad

Allan Venn
Director - Sedbury Stores Ltd

Willem Venter
Branch Director - Belvoir Watford

Paul Vincent
Area Partner - Nested Bishops Stortford

David Votta
Owner and founder - Votta Sales and Lettings

Mark Wade
Owner - Wade Residential Limited

Cushman Wakefield
Lettings Director - Churchill Estates
Bernie Waldman
Managing Director - Rainbow Reid

Nicola Walker
Director - Squire Property Management LLP

Henry Walker
Proprietor - William A. Gregory

Gabby Walker
Director - Manningford Croft Ltd

Steve Walker
Director - Collinson Hall

Mark Wall
Managing Director - Three Walls

Stacey Wallace
Lettings Manager - LV Property

Bernard Wallman
Managing Director - Wallmans Property Holdings Ltd

Bernard Wallman
Managing Director - Wallmans Property Holdings Ltd

Bernard Wallman
Managing Director - Wallmans Property Holdings Ltd

Tian Walters

Luna Wang

Gordon Ward

Reginald Warner
Partner - Warners

Neil Edward Waterton
Landlord
Graham Watkin
Managing Director - Watkin & Sons (PB) Ltd

Philip Watson
Managing Director - Martin & Co Rochdale

Elaine Watt
Director - GLV Ltd

Lucinda Watts
Owner - Sulgrave Estates

Nicholas Webber
Director - Westcoast Properties

Chris Welch
Manager - Star Lettings & Property Management

Michael Wells
Landlord

Jason Werter
Director - Living Residential

Martin West
Director - mlettings Limited

Carol Westacott
Owner/Manager - Isca Bay

Helen Westwell

Gillian Weymouth

Lee Wheatley
Partner - Properly

Louise Wheeldon
Property Manager - Property Lodge Management Co Ltd
Nicholas Whiddon
Director - Knightons Estate Agents

Sam Whitehead
Office Manager - The Accommodation Bureau

Mark Whitelaw

Michelle Whittaker
Operations Director - Hannon Holmes Ltd

Adam Whyte
Lettings Manager - Pearson Ferrier

James Wiggins

Ben Wilde
Director - Property Book UK

Charles Will
CEO - LMO

Jonathan Willey

Beryl Williams
Landlord

Debra Williams

Megan Williams
Lettings Manager - Brambles Estate Agent

Angela Williams
Director - Davis & Sons

Stephen Williams
Director - Carter Williams
Shelley Williams
Property Manager - Nicholas Humphreys

David Williams
Landlord

Henry Williams
Landlord

Corinne Williamson
CEO & Managing Partner - B & C Property Investments

Rebecca Williamson
Lettings Negotiator - Oakwood Estates

Brian Williamson
Managing Partner - B & C Property Investments

Lee Williamson
Regional Head Of Gen.T - Tatler

Brian Williamson
Managing Director - B & C Property Investments

Amy Wills
Landlord

Vivien Wilson
Director - Farringdon Road Properties Ltd

Ronald Wilson
Director - Belvoir Prescot Estate & Letting Agents

Philippa Wilson-Buys
Landlord

Ann Wilton
Owner - Warrener Properties
Darren Winnard
Director - Winnard Property Group Limited

Scott Winter
Manager - Austin Homes

Steven Woodruff
Landlord

Nigel Woods
Director - Woods Properties and Lettings

Antony Worswick
Senior Property Manager - Mohammed Raja Sales and Lettings Ltd

Catherine Wright
Landlord

Brian Wright

Samantha Wright
Director - Lovelle Estate Agency

James Wyatt
Director - Barton Wyatt Ltd

Geoff Wynne
Landlord

Jane York
Director - Jane York Lettings & Management Ltd

M Young
Partner - Youngs Property Management

Ramy Zaben
Owner - Zaben Property

Kamal Zada
Director - Lanisco

Eunice Zhu
Director - Miaoxin Investments Limited